2009-11-29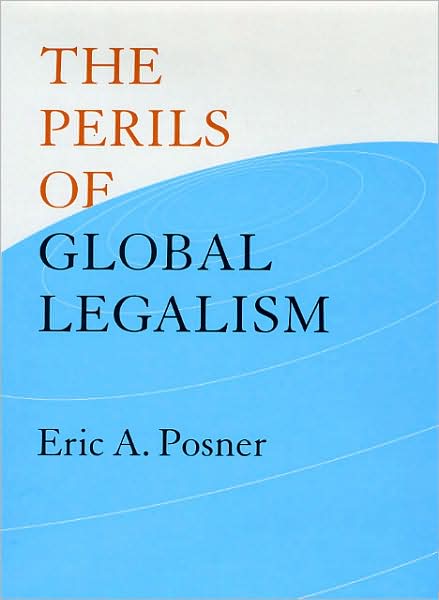 The Perils of Global Legalism, by Eric A. Posner
View @Amazon; @AbeBooks; @Barnes and Noble
Read an excerpt.
University Of Chicago Press, 2009
ISBN-10: 0226675742
ISBN-13: 9780226675749.
Review
This carefully argued book provides a useful corrective to the frequent assumption, held by many American legal academics and European elites, that the world's problems can be substantially reduced simply by creating more international law and institutions. As the book persuasively explains, only through rigorous thinking about the limits of what law and courts can accomplish in a heterogeneous and fragmented global system can we achieve more effective international cooperation. Rich in theoretical and interdisciplinary insights, the book also illustrates its claims with numerous real-world examples, both contemporary and historic, making it accessible to a wide audience.–Curtis Bradley, Duke Law School (Curtis Bradley, Duke Law School )

This trenchant and rigorous book provides a much-needed antidote to the sanctimony and sermonizing that permeates international law. It lays bare international law's circularity and demonstrates that much of the edifice is built on illusion. The `establishment' will be forced into contortions to answer its arguments. It's a bracing, refreshingly and altogether scintillating read.–Michael J. Glennon, author of Limits of Law, Prerogatives of Power
Table of Contents

Preface
Acknowledgments
Prologue

Part I. Global Legalism
One. The Utopian Impulse in International Relations
Two. The Flaws of Global Legalism
Three. Defending Global Legalism
Four. Globalization, Fragmentation, and the Law
Five. Global Legalism and Domestic Law

Part II. Adjudication in Anarchy
Six. International Adjudication: Its Promise and Problems
Seven. The Fragmentation of International Justice
Eight. Human Rights and International Criminal Law
Nine. International Law in Domestic Courts

Conclusion. America versus Europe

Notes
Index
Product Description
The first months of the Obama administration have led to expectations, both in the United States and abroad, that in the coming years America will increasingly promote the international rule of law—a position that many believe is both ethically necessary and in the nation's best interests.

With The Perils of Global Legalism, Eric A. Posner explains that such views demonstrate a dangerously naive tendency toward legalism—an idealistic belief that law can be effective even in the absence of legitimate institutions of governance. After tracing the historical roots of the concept, Posner carefully lays out the many illusions—such as universalism, sovereign equality, and the possibility of disinterested judgment by politically unaccountable officials—on which the legalistic view is founded. Drawing on such examples as NATO's invasion of Serbia, attempts to ban the use of land mines, and the free-trade provisions of the WTO, Posner demonstrates throughout that the weaknesses of international law confound legalist ambitions—and that whatever their professed commitments, all nations stand ready to dispense with international agreements when it suits their short- or long-term interests.

Provocative and sure to be controversial, The Perils of Global Legalism will serve as a wake-up call for those who view global legalism as a panacea—and a reminder that international relations in a brutal world allow no room for illusions.
About the Author
Eric A. Posner is the Kirkland and Ellis Professor of Law at the University of Chicago Law School. He is the author or coauthor of several books, including Terror in the Balance: Security, Liberty, and the Courts, and The Limits of International Law.